Edfinity Adaptive Learning leverages machine learning and artificial intelligence to continually assess each student's strengths and weaknesses and precisely fill learning gaps with personalized content and assessments. Read more here.
Each assignment in a course is mapped to one or more prerequisite skills.
When a student struggles with an assignment, they are guided to personalized problem sets to help them achieve mastery.
You can easily track a student's mastery of both the assignment topics and any prerequisite skills.
Enabling adaptive learning in an assignment
First, ensure that Adaptive Learning is turned on in your course.

Go to your course, and select the Licenses tab.
In the Student License Cost section, select the Adaptive Learning add-on.

Next, enable adaptive learning in the assignment.

Go to your assignment, and select the Settings tab.
In the Adaptive learning section, select Enable adaptive learning?
Specify a mastery level. Students who fails to achieve this mastery level within the assignment will be asked to review prerequisite skills before continuing. For example, if the mastery level is 90%, students will be prompted to review prerequisites after missing 20% of the points on the assignment.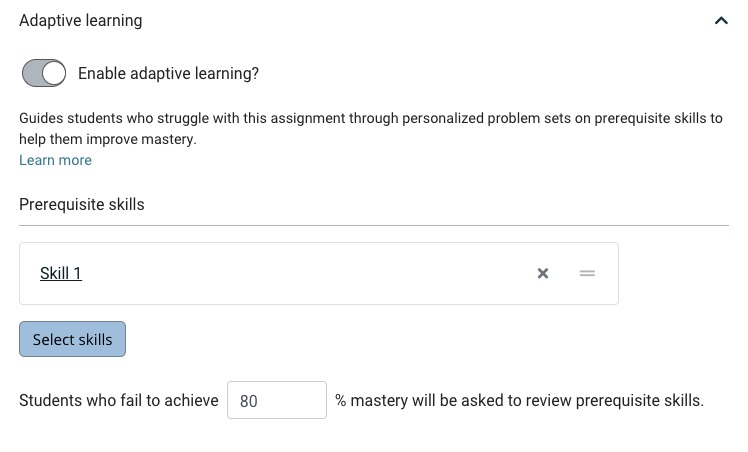 Customizing prerequisite skills in an assignment
Prerequisite skills are underlying skills that a student needs to master in order to achieve mastery in the assignment. Edfinity has a default skills graph built into all of the courses, and each assignment starts with a default set of prerequisite skills, but you can customize those skills.
To customize prerequisite skills:
Go to your assignment, and select the Settings tab.
Open the Adaptive Learning section, and ensure Enable adaptive learning? is selected. You will see a list of prerequisite skills.
To add a skill, select Select skills. You can then browse the skill graph and select the desired skills.
To remove a skill, select the (x) icon next to a given skill.
To change the order in which the skills are presented, drag and drop each skill as needed.
Tracking student mastery in an assignment
To track student mastery in an assignment, go to your assignment.
Select the Scores tab.
Select a student's row. This will open a dialog.
In the Mastery tab, you will see information about that student's performance, both for the main assignment and any work that they've done on prerequisite skills.
To drill into a student's work on prequisite skills, select view progress.