There are times when you may want to restrict when a student can start an assignment, e.g., a student takes a test in a supervised setting. Edfinity supports this flow by requiring that the student obtain an activation code from the educator in order to start the assignment. In the case of timed assignments, the educator can also use an administrative code to add extra time.
Obtaining access codes
To obtain an access code for use on a supervised assignment, go to Supervision.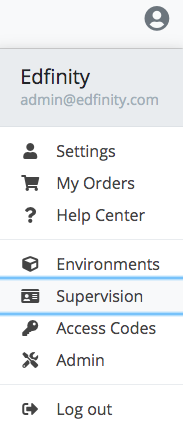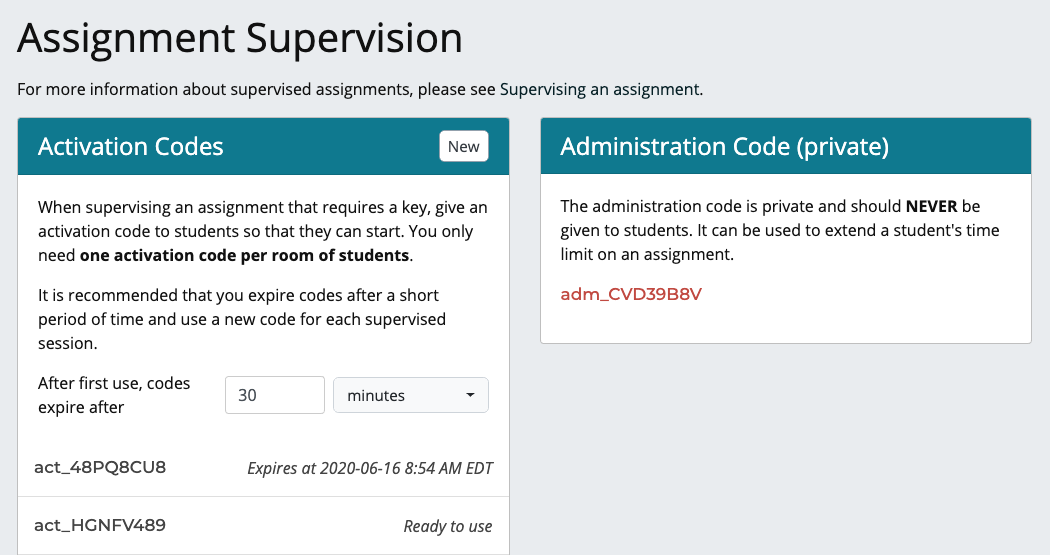 When supervising an assignment that requires a key, give an activation code to students so that they can start. You only need one code per room of students.
Note: By default, activation codes expire 30 minutes after they are first used. Take precaution when extending this duration.
Configuring an assignment to require an activation code
To configure an assignment to require an access code, go to the assignment and select the Environment tab. Select the Requires key option.
Starting an assignment that requires an activation code
If an assignment has been configured to require an activation code, the student will be prompted to provide the code when they access the assignment. Give the code to the student when applicable.
Adding time to a supervised assignment
If a student is working on an assignment in a supervised setting and you need to give the student additional time, go to the student's assignment and select Add extra time from the overflow menu.
You can add time logged in as either yourself or the student. If you are at the student's computer, you will need to provide your administrative code (located under Supervision in the user menu) in order to make the change. The administration code is private and should never be given to students.