Overview
Edfinity supports educators with powerful learning analytics and metrics to help deliver better learning outcomes for students.
These metrics help identify at-risk and struggling students, as well as the topics/skills that students are having difficult with. Edfinity analytics enable timely intervention by answering key questions such as the following:
Key Question 1: How may I identify students who are struggling or falling behind

Analytics available:

You may sort students by different metrics on assignments (e.g. % attempted, % credit earned, time spent).

You may view activity measures to identify students with low (or no) activity who might be falling behind.

You may further analyze specific students by inspecting an individual student's work to see time spent, attempt/submission history on specific questions.

If adaptive learning is enabled, you may view performance on adaptive learning prerequisite skills to see 1) which prerequisite skills they struggled with and 2) whether they were successfully remediated or not, to determine outstanding gaps in conceptual understanding.

Key Question 2: How may I identify the problems or topics that are challenging for my class?

Analytics available (both for a single assignment and multiple assignments)

You may sort problems by difficulty (as measured by % of students that got it correct) to see which ones were challenging for your students.

You may also view the distribution of incorrect answers to a particular question to see the mistakes students are frequently making, which will point to topic(s) or learning objective(s) which may need more practice or revision.

If adaptive learning is enabled, you may view performance on adaptive learning prerequisite skills across the class to identify prerequisite skills that are challenging - this may again point to learning gaps in your student audience. (Note: this will be available in Spring 2023).

Key Question 3: How is a particular student trending over time in the class?

Analytics available:

The gradebook allows for some longitudinal analysis of individual students trajectories over the course in terms of their grades/scores.
Student analytics walkthrough
To analyze student performance in an assignment, go to your assignment and select the Insights tab. You can access the following metrics-based reports: Summary, Scores, Problems, and Answers.
Here is a short video illustrating these reports.
Summary Report
The Summary Report shows three key metrics for student performance in an assignment.
Scores Report
The Score report shows the distribution of the number of students that scored each distinct score. The report also shows the student mean, median, mode, and standard deviation.
Problems Report
The Problems report shows key metrics such as Avg. Number of Attempts for each problem in the assignment. You can click on a bar in the report to drill into more detail on student performance for a specific problem.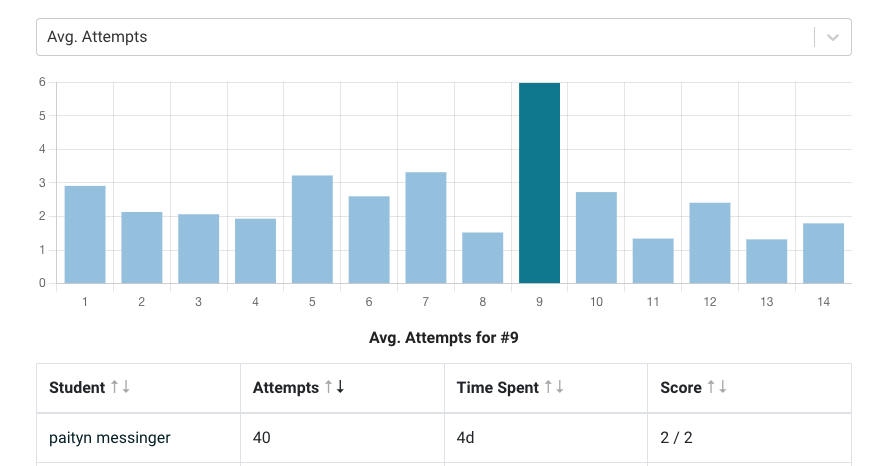 Answers Report
The Answers report shows student answers for each question in the assignment.
This report reflects answers in real-time, and you can use it in a flipped classroom setting in order to interact with students as they answer problems during class. For more information, see Viewing live student responses in an assignment.